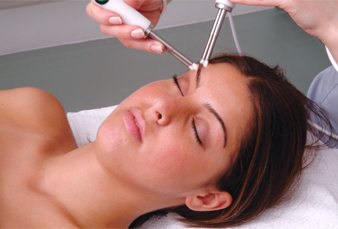 CACI Face Lifting
Perfect for those needing high precision results, this treatment gently lifts, tightens and tones the facial muscles whilst smoothing the appearance of fine lines and wrinkles. Skin is beautifully re-hydrated whilst tone and texture is improved leaving the skin with wonderful glow and firmer more supple appearance.
Relaxing treatment with immediate and dramatic results… a possible lunch hour face – lift!
A course of 10 treatments is recommended.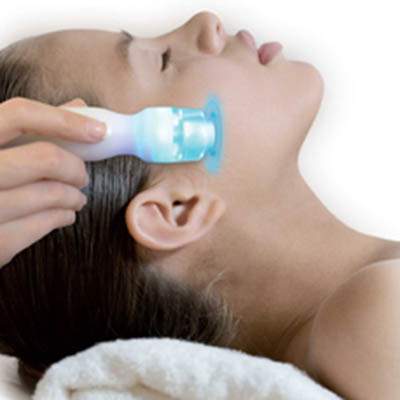 CACI Ultimate Anti Ageing Facial
The CACI Ultimate is a tailor-made anti ageing facial giving extra care and attention to your individual needs combining ultrasonic peel, non-surgical facelift with high frequency (wrinkle comb). The ultrasonic peel is a resurfacing procedure, it effectively and painlessly tackle harsh face and body imperfections such as lines and wrinkles, sun damage skin, acne scaring and pigmentation. Combined with the non- surgical facelift and wrinkle comb you get a longer lasting effect, with lines plumped out with a firmer more supple appearance and wonderful glow.
A course of ten treatments is recommended.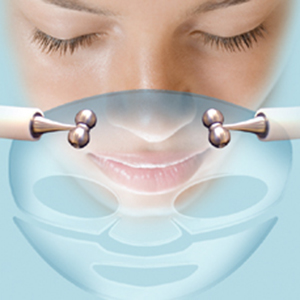 CACI Hydratone
The hydratone mask is a intensive skin hydration and face firming treatment. Using a mask infused with powerful hydrating properties (collagen, hyaluronic acid, vitamin E and C). De-hydrated and sun damaged skin is immediately quenched, whilst deep lines and wrinkles are plumped out. The face will be left with a remarkably softer, radiant and more youthful appearance. This is the best facial to combat all your concerns, leaving your skin firm, plump, and well re-hydrated.
Talk to us about including a hydratone mask as part of your CACI therapy.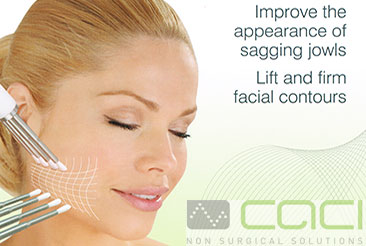 Targeted CACI treatments
We can use CACI to target specific areas. On the face we can target sagging muscles around the eyes or jowls to provide a firmer more youthful appearance. We can also look at areas of the body that can sometimes need a bit of extra help, such as firming up wrinkled areas on the hand, or specifically targeting the bust area.